Summary of the 7th Chamber Music Festival Spaces of Music (29.09-1.10.2017)
The VII Chamber Music Festival Spaces of Music began with a concert at the Konin Culture Center. Janusz Wawrowski with his new string orchestra Warsaw String Players and soprano Bogumiła Dziel-Wawrowska presented masterpieces of late Romantic music. The premiere of Norbert Palej's Concerto for violin and string orchestra was a unique event. Next, the artists performed for the first time in the history of the festival at the Września Culture Center.
The festival ended with a concert in the Evangelical-Augsburg Church of the Holy Spirit in Konin. Warsaw String Players presented themselves in various chamber ensembles: from Bartók's Duets and Sonata for 2 violins by Leclair, through string quartets, including a arrangement of a song by a Renaissance composer from Wielkopolska – Wacław z Szamotuł, and rarely found in music literature – Quartet for 4 violin by Grażyna Bacewicz.
We thank the audience for being with us, all support and enthusiastic reception of the new orchestra.
Special thanks go to the Mayor of Konin and City of Konin for great support in organizing the festival. We would like to thank the festival's partners for their reception: Koniński Dom Kultury, Wrzesiński Ośrodek Kultury and Evangelical-Augsburg Parish in Konin.
You can watch a short film from the festival  at wielkopolska.tv.
We invite you to the 8th edition of the festival in October 2018! More at our Facebook.
Bogumiła Dziel-Wawrowska and Janusz Wawrowski
together with the team of Chamber Music Festival Spaces of Music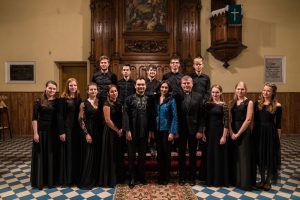 Photos: Mirosław Jurgielewicz.
Data publikacji: 2018/01/18