1st Chamber Music Festival "Spaces of Music"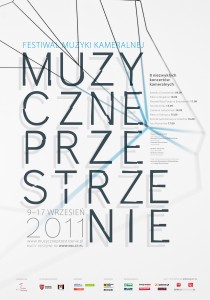 Spaces of Music Chamber Music Festival, held between the 9th and 17th of September 2011, is a novelty on the musical map of Poland. Organized by the newly formed Zygmunt Noskowski Foundation, it offers enthusiasts of chamber music a unique opportunity to enjoy exquisite artistic performances organized in the churches, palaces and castles of the Wielkopolska region.
Spaces of Music Chamber Music Festival is the first major event organized by the Foundation. The aim of Spaces of Music is to promote the union of music and architecture by staging concerts at historical sites of architectural and artistic value. Carefully selected venues will undoubtedly be one of several assets of the Festival: invited artists will perform in splendid castles, palaces and churches all of which have witnessed important moments in the Polish history and culture. The concert trail includes the Parish Church in Poznań, the Gniezno Cathedral, the Garrison Church in Gniezno, the Parish Church in Konin, the palaces in Dobrzyca and Rogalin, Manor house "Róża Poraja" in Budziejewo and the Gołuchów Castle.
Spaces of Music will be a singular event among European music festivals. For one spectacular week soloists of the top-class orchestras from around the world will come together to perform masterpieces chamber music, with particular emphasis on the work of Polish composers from the turn of the 20th century, such as Noskowski, Zarębski, Karłowicz and Maliszewski, often forgotten and unappreciated as a result of the turbulent history of the period. The program of the Festival will also include several of the great European masters: Bach, Liszt, Brahms, Bottesini, Boccherini, Górecki, Stravinsky, Faure, Mahler, Moniuszko. The Festival is helmed by its originator and artistic director, Janusz Wawrowski.
Data publikacji: 2011/08/01