Jadwiga Rappe
alto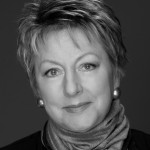 One of the most renowned Polish opera singers, a graduate of the Department of Slavic Philology at the University of Warsaw. A student of Professor Zofia Brégy and graduate of the Music Academy in Wroclaw where she attended vocal classes under Professor Jerzy Artysz. First prize laureate in the International Johann Sebastian Bach Competition in Leipzig and laureate of Gold Medal in Festival of Young Soloists in Bordeaux.
Jadwiga Rappé may boast a versatile repertoire, mostly oratorio and song, spanning from Baroque to contemporary music such as, for example, masterpieces by K. Penderecki, A. Schnittke or W. Kilar. Her vast repertoire includes operatic parts, however, she also has at her disposal several stylistically diverse recitative programmes.
The artist herself has been performing in the most prestigious concert halls of Europe, North America and Asia. Furthermore, she has been cooperating with many superb conductors such as R. Chailly, Sir C. Davies, N. Harnoncourt, K. Nagano, A. Jordan, M. Janowski, K. Penderecki or A. Wit to name but a few. She has also been performing at well-known festivals such as Salzburger Festspiele, Brucknerfest Linz, Wien Modern, Musiksommer Leipzig, Warsaw Autumn Festival and Wratislavia Cantans.
Jadwiga Rappé is frequently being invited to perform pieces by Gustav Mahler, whose works are meant for an alto voice and are all to be found in her vast repertoire. The artist takes part numerous premieres of contemporary masterpieces such as 'Seven Gates of Jerusalem' by K. Penderewski which was first performed in Jerusalem in 1997 and conducted by Lorin Maazel. In 2001 she contributed to the premiere of 'Missa Pro Pace' by W. Killar in the National Philharmonic of Warsaw, conducted by K. Kord. It has to be pointed out that the artist also participated in premieres of musical works by J. Łuciuk, P. Moss and K. Baculewski which were meant for her original alto voice.
In March 2008 Jadwiga Rappé took part in the world premiere of 'Gong. Sinfonietta for mezzo soprano, mixed choir and orchestra' by Ladislav Kubik – a contemporary Czech-American composer. She scored a great success as Erda in Wagner's Wagner's Ring des Nibelungen performed at the Deutsche Oper Berlin, Covent Garden, Le Théâtre Royal de la Monnaie in Brussels, Festival d'Orange, Wiener Staatsoper, Opera House in Frankfurt an der Oder, Grand Théâtre de Genève to name just a few. It was subsequently recorded by EMI and conducted by Bernard Haitink. The artist was extremely successful when performing the operatic part of Gaea in 'Daphne' by Richard Strauss followed by the part of Clytemnestra in 'Elektra' by the same composer performed in Deutsche Oper Berlin, Opera du Rhin in Strasbourg and other operatic performances around the world.
Jadwiga Rappé's discography numbers 46 titles. Most of her recordings were made for BMG Music, Teldec, Erato, Denon, Orfeo, Philips, Decca, Chandos, CD Accord, Naxos and DUX. Many recordings in which she was taking part won international awards, 7 recordings made in Poland won the award of the Polish phonographic industry and 7 more were nominated to this award. Her recording of Krzysztof Penderecki's 'Seven Gates of Jerusalem' made for Naxos was nominated to Grammy award 2005. Her recording entitled 'Stanislaw Moniuszko-Songs' with Maja Nosowska at the piano received the 'Orphee d'Or' in 2011. This award is given by the French Academie du Disque Lyrique for the best recording of operatic songs. The recording itself proved to be a great success and received sensational reviews.
Jadwiga Rappé is often invited to sit on the juries of national and international singing competitions. She has been teaching her own class of solo singing at the Fryderyk Chopin University of Music in Warsaw. From March 2006 to March 2009 she held the office of president of Witold Lutosławski society.
For more information please go to www.rappe.pl