Marcin Zdunik
cello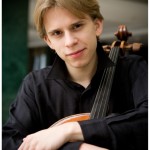 Polish cello player, a graduate of The Fryderyk Chopin University of Music, he attended classes under Professor Andrzej Bauer and Moniuszko School of Music in Warsaw where was in the class of Professor Andrzej Orkisz.
Marcin Zdunik has performed in many countries across the world. He frequently presents his own compositions and arrangements. He has been performing in many prestigious concert halls, such as, the Rudolfinum in Prague, Carnegie Hall in New York, Tchaikovsky Conservatory in Moscow, the Hermitage Theatre in St. Petersburg, Konzerthaus Dortmund, the Slovak Philharmonic in Bratislava and the National Philharmonic in Warsaw. The artist took part in a number of festivals; the Musical Olympus Festival in Saint Petersburg, Kammermusikfest Lockenhaus, Wartburg Festival, Autunno Musicale Caserta and Lago Maggiore Musica to name just a few.
He has been cooperating with many renowned ensembles, for instance, the Prague Chamber Orchestra, St. Petersburg Camerata, the National Philharmonic Symphony Orchestra, Polish Radio Symphony Orchestra and also numerous reputable musicians, such as, Urszula Kryger, Krzysztof Jakowicz, Andrzej Bauer, Jan Stanienda, Julius Berger and Janusz Wawrowski. The cooperation with Janusz Wawrowski resulted in Zdunik's composition of cello part to Paganini's 'Caprices'.
The cellist is a laureate of numerous competitions held in both Poland and abroad. In 2007 Marcin Zdunik won the first prize at the 6th Lutoslawski International Cello Competition in Warsaw where he was also awarded the Grand Prix for an outstanding performance of Lutoslawski's Cello Concerto and received nine other prizes.
He holds scholarships from the Pro Polonia Society, Mozart Gesellschaft Dortmund, the National Foundation for Children, 'Młoda Polska' programme and the Ministry of Culture and National Heritage. In 2008 he won the New Talent title at The International Forum of Young Performers in Bratislava. A year later he was awarded a Cultural Guarantee prize given annually by Polish TV Culture.
His first album from 2009 got him the Polish phonographic industry award a year later. The album, containing Cello Concertos written by Joseph Haydn, was recorded with the participation of Wratislavia Chamber Orchestra which was conducted by Jan Staniend. He has also recorded numerous pieces for the Polish Radio and Television. In 2009 the artist, with the Amadeus Polish Radio Chamber Orchestra, recorded Haydn's cello concerto in B minor.
Marcin Zdunik plays the cello made by Wojciech Topa.