The King's Singers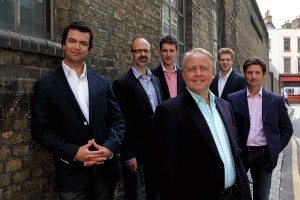 One of the world's most celebrated ensembles, The King's Singers have a packed schedule of concerts, recordings, media and education work that spans the globe. Championing the work of young and established composers, they remain consummate entertainers; a class-act with a delightfully British wit. From Gesualdo and György Ligeti to Michael Bublé, The King's Singers are instantly recognisable for their spot-on intonation, their impeccable vocal blend, the flawless articulation of the text and incisive timing.
During the 2011-12 concert season, The King's Singers will perform across the world in some of the world's most beautiful concert halls including the Salle Gaveau in Paris, the Berlin Philharmonie, and the Warsaw Philharmonic Concert Hall. The King's Singers will travel to France, Germany, the US and Canada, Bulgaria, Hungary, Italy, the United Arab Emirates, Poland, Armenia, Belgium and the Netherlands, Austria, Luxembourg, Finland, Mexico, Japan, Korea and China, and will be featured artists at the prestigious Schleswig Holstein Music Festival in July 2011.
With a discography of well over 150 recordings The King's Singers have garnered both awards and significant critical acclaim. Their studio album Simple Gifts on Signum was awarded a Grammy® in 2009. Swimming over London, a disc that aligns KS 'favourites' with new songs and new arrangements was released in 2010, alongside a world premiere recording of Music for Vespers by Pachelbel with Charivari Agréable. While touring the USA in February 2010, The King's Singers recorded an album with renowned Concordia College Choir including KS commissions by Eric Whitacre and Bob Chilcott which will be released in 2011. Over the Christmas season, the group released J.S. Bach: Christmas Oratorio, a disc of Bach's classic work in jazz arrangements by Bill Dobbins, and recorded a performance of their Joy to the World programme at London's Cadogan Hall, released as a 'live burn' on the day of the concert. A DVD of their Christmas repertoire, recorded in London in January 2011 will be released later this year.
The King's Singers maintain a deep commitment to new choral music and have commissioned over 200 works from a host of prominent contemporary composers including Richard Rodney Bennett, Luciano Berio, Peter Maxwell Davies, György Ligeti, Gian Carlo Menotti, Krzysztof Penderecki, Ned Rorem, John Rutter, Toru Takemitsu, and John Tavener. This season, The King's Singers will premiere works by Paweł Łukaszewski, Elena Kats-Chernin and Eric Whitacre.
The King's Singers have an extraordinary history on television. A favourite of the Mormon Tabernacle Choir, with whom they performed as part of the Winter Olympics, they appeared on the Mormon Tabernacle Choir's Christmas Concert to a combined live audience of 80,000 which was television broadcast on PBS across the US and is available on DVD. Following their televised BBC Proms performance at the Royal Albert Hall, London (also available on DVD – awarded a Midem International Classical Award in January 2010) and appearances on BBC Breakfast television, The King's Singers appeared on Songs of Praise on BBC television (BBC One) three times in 2010, including a Christmas special.
In addition to their sold-out concerts worldwide, The King's Singers share their artistry through numerous workshops and master classes. They have clocked up phenomenal sales of sheet music with over two million pieces of print in circulation with current publisher Hal Leonard. The King's Singers' arrangements are sung by schools, college choirs and amateur and professional ensembles the world over.