Magdalena Bojanowicz
cello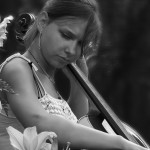 She graduated from the class of Prof. Andrzej Orkisz at the Z. Brzewski High School of Music. In 2010 she graduated BA with distinctions from the class of Prof. Andrzej Bauer at The Fryderyk Chopin University of Music in Warsaw where she continues MA studies.
She has awarded many international cello competitions: 2nd prize and two Special Prizes at the 7th Witold Lutosławski International Cello Competition in Warsaw (2011), 2nd prize at the 69th International Ludwig van Beethoven Cello Competition in Hradec (Czech Republic, 2010), Special Prize for the best promising Polish artist at the 14th International Contemporary Chamber Music Festival in Kraków (2010) (together with Maciej Frąckiewicz), 3rd prize at the 1st Krzysztof Penderecki International Cello Competition in Kraków (2008), 2nd prize at the 42nd International Accordion Competition in Klingenthal (Germany) (together with Maciej Frąckiewicz), 1st prize at the 8th International Cello Competition in Liezen (Austria, 2006). In 2009 she was semifinalist at the one of the most prestigious cello competitions – the 2nd Gaspar Cassado International Cello Competition in Tokyo (Japan).
Magdalena Bojanowicz has attended master classes and courses in Brussels, Salzburg, Pineswang (Austria) Kronberg (Germany) with Proffessors: Julius Berger, Claus Reichardt, Victoria Yagling, Kazimierz Michalik and Arto Noras.
She has four times been a fellow of the Artistic Scholarship founded by the Polish Ministry of Culture (2001-2008). In 2009 she awarded the "Młoda Polska" scholarship. She took part in the "My Talent for Poland" meeting founded by former President of Poland Lech Kaczyński (2006). She has performed as a soloist with among others Rzeszów Philharmonic, Philharmonic in Zielona Góra, Łódź Philharmonic, Wałbrzych Philharmonic under the baton of such conductors as: Tadeusz Wojciechowski, Jerzy Kosek, Michał Nesterowicz oraz Paweł Przytocki.
She has appeared at many festivals like 23rd Polish Festival "Week of Talents" (Tarnów, 2005), 15th Polish Festival "Gwiazdy Promują" in Jelenia Góra, Musica Moderna in Łódź, Warsaw Autumn, Musica Polonica Nova, Masters of Polish Violinists in Zielona Góra, "Festival au Leman" in Thonon les Bains (France). She is a member of the "Cellonet" which was founded by Andrzej Bauer.