Janusz Wawrowski
violin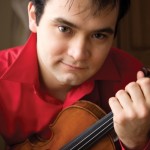 One of the most eminent Polish violinists of the younger generation. He graduated with distinction from the class of Prof. Mirosław Ławrynowicz at the Fryderyk Chopin University of Music in Warsaw. He also studied with Prof. Yair Kless and Salvatore Accardo. He has awarded many international violin competitions.
Janusz Wawrowski has perforemed with such orchestras as the Warsaw Philharmonic Orchestra, Sinfonia Varsovia, the Polish Radio Orchestra, the "Aukso" Chamber Orchestra, Polish Radio Chamber Orchestra "Amadeus", Südwestdeutsche Philharmonie, Bohuslav Martinu Philharmonic Orchestra, Odessa Philharmonic Orchestra and Sinfónica de la Juventud Venezolana Simón Bolívar under the batons of such eminent conductors as Conrad van Alphen, Łukasz Borowicz, Gabriel Chmura, Mykola Diadiura, Agnieszka Duczmal, Arthur Fagen, Jerzy Maksymiuk, Tomáš Netopil, Vladimir Ponkin and Antoni Wit. He performed in many renowed contert halls (among others Albert and Victoria Museum in London, The Opera House in Tel Aviv, De Doelen Concertgebouw in Rotterdam) and on many prestigious festivals (among others Carlscrona Chamber Music Festival, Bebersee Festival, Salzburger Festspiele).
Janusz Wawrowski records for the Polish Radio and Television. He cooperates with Oscar-winner Jan A. P. Kaczmarek as his solo violinist in film soundtracks ("Evening" and "Get low"). In 2009 he recorded Violin Concerto "Óneiros" (notably, it was the premiere recording) by Dariusz Przybylski, a young contemporary Polish composer.
Janusz Wawrowski is the only Polish violinist who performs the complete Capricci op. 1 by Niccolo Paganini at his concerts. His debut record with 24 Caprices by N. Paganini was released (CD Accord, 2007) has got many enthusiastic reviews (among others in The Strings Magazine and The Strad).
Next season, apart from his solo concerts at philharmonic halls in Poland, Janusz Wawrowski has taken part in Polish Music Festival in Cracow, and also in the 7th International Music Festival Chopin and his Europe. In October, at the prestigious Berlin Philharmonic Hall, Janusz and his friend Marcin Zdunik (cellist) will present their unique on the world's scale Ultimate Paganini project. Several days later, with Ewa Pobłocka (pianist) and the Noskowski Quartet he will perform at the P. I. Tchaikovsky Moscow Conservatory. This is going to be the debut of the quartet, of which Janusz is a co-founder.
Janusz Wawrowski plays on modern instrument made by Wojciech Topa.