Robert Dymowski
bass-baritone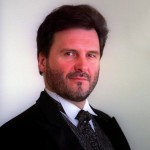 Robert Dymowski is endowed with a fairly rare bass baritone voice which means that there are numerous operatic parts which suit him.
His career began in 1975 when he started performing with the youth choir of the Polish Scouting Movement, cooperating with the Grand Theatre of Warsaw and conducted by Wladyslaw Skoraczewski. The choir's operatic repertoire included masterpieces by Mussorgsky, Bizet, Puccini and Wagner. After having graduated from his college in 1978, he embarked on his musical career at Warsaw Operetta. From 1982 to 1985 he was attending vocal classes of Professor F. Rudomski at J. Elsner State Music College in Warsaw. He is a finalist of numerous vocal competitions in Kudowa, Krynica-Zdroj and Wroclaw.
In 1991 he made his debut as a soloist at the National Opera of the Grand Theatre in Warsaw; his first role was that of Banquo in Verdi's 'Macbeth'. His vast repertoire includes operatic parts written mostly for bass and baritone voice, for instance, 'The Barber of Seville' by Rossini (Bartolo, Don Basilio), 'Salome' by Richard Strauss (Jochanaan), 'Don Giovanni' by Mozart (Leporello), 'Faust' by Gounod (Mefisto) and Bizet's 'Carmen' (Escamillo).
Robert Dymowski has cooperated with a number of Opera Houses in Poland (Wroclaw, Lodz, Bydgoszcz), Gdynia Music Theatre and German Badisches Stadtstheater in Karlsruhe. Apart from the operatic repertoire he has taken part in various musicals. He has performed as Tevye the Milkman in the famous adaptation of 'Fiddler on the Roof' by Jerzy Gruza. He has proven that contemporary music constitutes an equally important element of his repertoire, especially pieces by Krzysztof Penderecki. He took part in 'Paradise Lost' by the above mentioned author; his role was that of Satan. In 1995 he landed himself the lead role in 'The Penal Colony' by Joanna Bruzdowicz.
The artist has been participating in numerous concerts, presenting his vast repertoire containing a number of oratorios and cantatas (Beethoven, Bach, Moniuszko). Robert Dymowski took part in Osterfest Festival where he participated in staging Beethoven's Symphony No. 9. Moreover, he has been performing in concert halls of such countries as: Belgium, Greece, Spain, Holland, Israel (Opera Festival in Jerusalem), Japan, Lithuania, Luxemburg, Germany, Russia (The Bolshoi Theatre).