Magdalena Karolak
oboe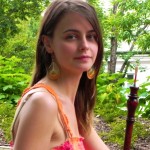 Born in 1984 in Poznan, a graduate of Henryk Wieniawski State Music School and Mieczyslaw Karlowicz State Music College in the oboe class of Professor Tomasz Gubanski. Magdalena Karolak studied at the University of Music in Freiburg under Professor Heinz Holliger. She continued her studies and graduated from the University of Music in Luebeck under Professor Diethelm Jonas and from the Conservatory of Music in Geneva, under Professor Maurice Bourgue, where she obtained her 'Diplome de Soliste' in 2007. She studied also historical oboes at the Conservatory of Music in Verona under Professor Paolo Grazzi.
The artist is a laureate of many prestigious international competitions, such as the International Competition held in Lvov, Bern, Takasaki, Prague, Lubeck and Vicenza. From 2006 to 2010 she was cooperating with the Opera Orchestra in Zurich and subsequently in 2010 she won the audition for the principal oboe at the Sinfonia Varsovia. She performed under numerous conductors like Nello Santi, Michael Gillens, Adam Fischer, Franz Welser-Moest, Pierre Boulez or Jerzy Semkow to name just a few. The artist herself regularly performs with several early music ensembles including Il Giardino Armonico, Arte Dei Suonatori, Matheus, Accademia Bizantina, Il Complesso Barocco, Koelner Akademie and I Barocchisti. Their repertoire consists of various baroque, classical and romantic pieces. Meeting Il Giardino Armonico conducted by Giovanni Antonioni was a unique source of inspiration for the artist, she decided to perform regularly with the music ensemble in question in 2009.
She was lecturing at the Music Conservatory in Verona, she also taught at the early music master classes in Bourg-en-Bresse (France) and at the Frederic Chopin Music Academy in Warsaw.